Blueberries and strawberries are both vibrant, delicious fruits that are not only pleasing to the eye but also packed with nutritional benefits. Their sweet and tart flavors make them excellent additions to various dishes and are loved by people of all ages. Let's explore the delightful combination of blueberries and strawberries and discover why they are a perfect match.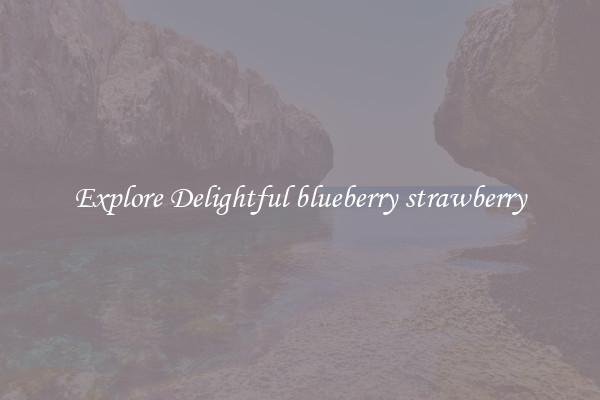 Blueberries, often referred to as nature's superfood, are known for their high levels of antioxidants. These antioxidants, specifically flavonoids, help protect our bodies from damage caused by harmful free radicals. Blueberries are also rich in vitamins C and K and are a good source of dietary fiber. Additionally, they are low in calories, making them an excellent choice for those looking to maintain a healthy weight.
Strawberries, on the other hand, are packed with vitamin C, manganese, folate, and potassium. They are known for their anti-inflammatory properties and are also a great source of antioxidants. Like blueberries, strawberries are low in calories and high in fiber, making them a fantastic addition to any diet.
When blueberries and strawberries are combined, they create a delicious and nutritious medley of flavors. The sweet and tangy taste of blueberries complements the slightly tart flavor of strawberries, resulting in a delightful burst of freshness in every bite.
One popular way to enjoy blueberries and strawberries together is by incorporating them into a refreshing smoothie. Simply blend the fruits with a liquid base of your choice, such as almond milk or yogurt, and add in some ice for a cool and creamy treat. Not only will this smoothie satisfy your taste buds, but it will also provide a boost of essential vitamins and antioxidants.
Another way to enjoy this delightful combination is by pairing them in a summer salad. Toss sliced strawberries and blueberries with some fresh spinach or mixed greens, add some feta cheese or nuts for added texture, and drizzle with a light vinaigrette. This salad is not only visually appealing but also a healthy and nutritious option for a light meal or side dish.
Lastly, blueberries and strawberries can be used together in baking. Whether it's in a pie, muffins, or a crisp, the combination of these two fruits adds a burst of flavor to any dessert. Consider mixing them with a touch of lemon zest for an extra zing of freshness.
In conclusion, blueberries and strawberries are two delightful fruits that not only taste amazing but also provide numerous health benefits. From their rich antioxidant content to their high fiber and vitamin levels, incorporating both fruits into your diet can contribute to a healthier lifestyle. So, go ahead and explore these vibrant and delicious fruits, and enjoy the delightful combination of blueberries and strawberries in various dishes.